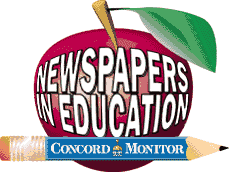 The Concord Monitor Newspapers in Education program supports K-12 education by providing newspapers and newspaper-based curricula at no cost to classrooms in our delivery area.
NIE helps teachers bring real-world learning into the classroom, connecting their students to their local community and the wider world beyond. Teachers can sign up to receive newspapers in their classroom, learn about fun and educational newspaper activities and lesson plans or share their experiences with other teachers.
For students, NIE is a window to the world and a chance to discover how much fun it can be to read the newspaper.
Papers are provided at no cost to the schools or students, thanks to the assistance of our generous sponsors. To learn more about the Concord Monitor NIE program, please contact us.